There is nothing quite like the smell of new construction that is for sure! As seasoned professional real estate agents we have sold numerous resale homes as well as an abundance of new homes. There are some pros and cons for each type of purchase. Today we are discussing new construction housing and specifically the type of new construction where the builder has a person sit in their model home waiting for the next potential buyer to walk through the door.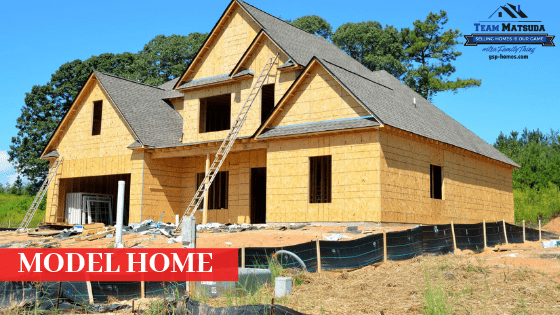 What Buyers Should Know
The first thing any home buyer should know before walking into a model home is that the person sitting in there is a representative for the builder, not you, the purchaser. You may ask, "why is that important?" There are two sides to every transaction, a buyer side and a seller side. If you have not formed a relationship with a buyer agent to represent you in your new home purchase, you may want to consider doing that before going to that model home.
It is crucial for you to be protected because buyer agents are trained in contract law and know what is normal as well as customary in their local area, as well as being skilled negotiators. When a national builder like Ryan Homes or DR Horton Homes comes into Spartanburg or Greenville, they may or may not be familiar with the market. They form relationships with local real estate attorneys and lenders. They are all working together and may offer incentives that are tied to you, the buyer, using their preferred partners. That is in their best interest, although that may or may not always be in your best interest.
Click here to see New Construction homes.
Choosing an Attorney
It is important that you have options to choose who you want to work with for your closing attorney. SC Law requires an attorney to be involved in every home purchase or sale and actually allows the buyer the right to choose that attorney. You may need an attorney in the future, so it is ideal to have a familiar person to turn to or ask for a recommendation if another type of attorney is needed.
Avoiding Extra Costs
In South Carolina, the state charges Deed Stamps or a recording tax on every sale which is normally paid by the seller. That is often not the case in other states, so you must know what that cost will be if you are working with a new construction builder. Determining who pays that fee will be in the builder's contract agreement. This is another reason why an experienced agent working on your side can help you understand the terms of the builder contract.
Getting a Pre-Approval
Another important relationship you will want to develop is with your mortgage lender, as that may also make a difference in your new home construction purchase. The first step in buying a new home should be getting your pre-approval letter before you decide to start house hunting. Some buyers are comfortable with meeting their lenders in person, while others decide to work with an online company. Choosing the right lender for you may include asking friends or family for a recommendation or reading online reviews. Your new house is often the most expensive purchase you will make, so trusting your lender is so important.
Click to Just Listed Homes with a Map!
Team Matsuda Can Help
Team Matsuda wanted to let you know that if you are thinking about looking for a new construction home, we can be a trusted resource and guide you through every step of the way. When you're ready to go see a model home, remember that the builder wants to sell you one of their houses.  Keep us in mind for all your real estate needs. Let's schedule a home buyer consultation where we can educate you on the process of buying a new home in the Upstate of South Carolina. Give us a call or text at 864-205-7653!
Are you selling a home in Greenville, Greer or Spartanburg?
Use this form to get a free home valuation.
[optima_express_valuation_widget style="twoline"]