Are you thinking of a move to the beautiful Upstate of South Carolina? Have you heard awesome things about this amazing area? Today we're discussing our pros and cons of living in Greenville or Spartanburg, SC!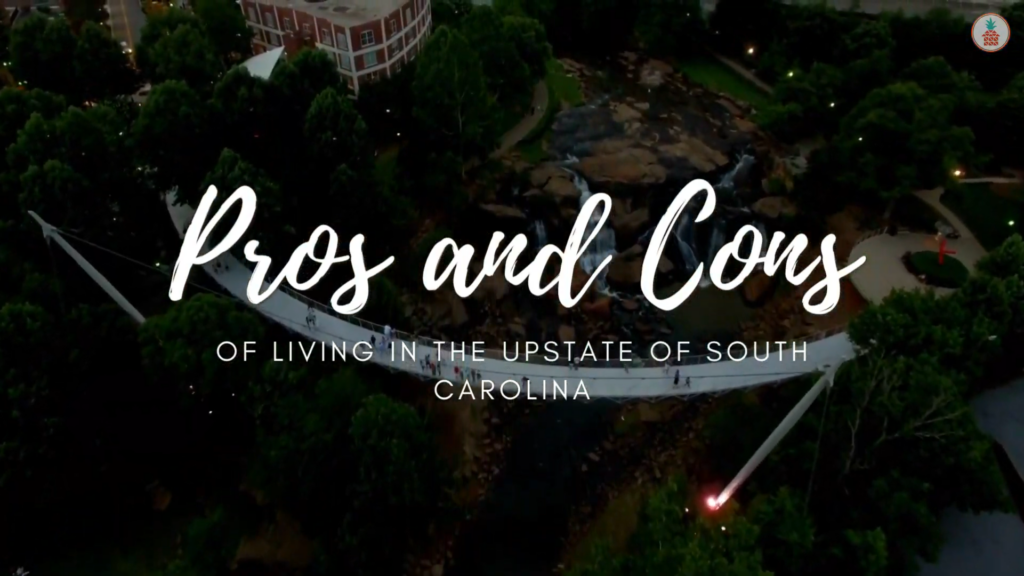 Great Location
The Upstate of South Carolina is a great location due to its ease of access with interstates. Whether you're traveling I-85 or I-26, the beach or the mountains are never too far away. If you want to take a day trip to the North Carolina mountains and go and see some amazing scenic views on the Blue Ridge Parkway, or if you want to take a weekend getaway to one of the abundant amount of beaches that we have here in South Carolina, you're never too far away.
Affordability
Both Greenville and Spartanburg county have been put on multiple lists of top 10 places to live in the United States based on our affordability and that's something we know something about! Our housing is affordable compared to many other areas in the US, that's not to say that the prices haven't been going up but it's still quite affordable. Our property taxes are actually pretty low and we definitely have some of the lowest gas prices in the entire United States.
Job Opportunities
We have become a melting pot for transplants, for people not only just across the US but from around the world as well. That has a lot to do with our global companies such as GE. Michelin and BMW. The growth that we've seen in both Greenville and Spartanburg has been absolutely tremendous!
Higher Education
There are 11 colleges located between Greenville and Spartanburg. Seven of which call Spartanburg county home and four that are in Greenville county. From community colleges to trade schools to prestigious universities, medical training facilities and so much more there is bound to be a college that is going to aid in your furthering of education.
Food
If you like food you won't run out of places to try in the Upstate of South Carolina. Greenville is a foodie mecca second only to Charleston and we have tons of chain restaurants but don't despair because we do have a lot of independently owned restaurants in and around the surrounding areas of downtown Greer, Greenville, and Spartanburg. Surely one of those restaurants will make your mouth sing a happy song!
Sporting Events
In the Upstate of South Carolina you are never too far away from sporting event. You can watch the national championship winning Clemson Tiger football team or you can go and catch a preview of the Carolina Panthers training camp at Wofford College. If you're a big basketball fan you can go check out the national championship winning South Carolina Gamecocks women's basketball team just down in Columbia and in the other direction you can head up to North Carolina to see the Charlotte Hornets take the court.
Great Weather
As a former New Englander, I much prefer the weather here than the weather that I grew up with. You'll always be able to find something to do outside, whether it's taking a bike ride around the Swamp Rabbit trail or walking down the rail trail in Spartanburg. We still have the dog days of Summer that's for sure, and you're going to get a little bit chilly in the Winter.
The Cons
Southern cuisine is not necessarily known for it's health factor or low calorie count so you may gain a little bit of weight while you're here.
The roads are bumpy… okay they're actually really bumpy and they're pretty darn busy during commuting hour sand on the interstates.
The the humidity can be a bit much on some days and in the spring the pollen is only heaven if you own a car wash.
If you like to dance the night away, you better pack a bag and take a road trip to Atlanta, Columbia, or Charlottle.
If you're looking to relocate to Greenville or Spartanburg South Carolina, we would love to help you do so! Please check out our information here so that you can get in contact with us and we look forward to serving all of your real estate needs in the Upstate of South Carolina.
Ask Us Anything!