Welcome to Team Matsuda Realtor's comprehensive guide to Spartanburg, SC, a rapidly growing hidden gem in the Upstate with a diverse real estate market. Our team of experienced Spartanburg SC real estate agents takes pride in serving the community, assisting both buyers and sellers in navigating local opportunities.
Whether you're drawn to traditional neighborhoods, historic districts, or searching for homes for sale in Spartanburg SC, we have a variety of properties to suit your preferences. Our expertise covers everything from spacious single-family homes to charming condos and townhomes, ensuring we can help you find the ideal home to match your lifestyle and budget.
Boasting a perfect blend of suburban and urban living, Spartanburg has something for everyone. Let us guide you through this vibrant community and all it has to offer. Contact us today to schedule a consultation, and embark on your journey to find your dream home in Spartanburg, SC.
Homes For Sale in Spartanburg SC: Browse Real Estate by Price and Features
Explore Spartanburg Real Estate: Browse Property Listings by Neighborhood or Find All Homes, Condos, Townhomes, and Land for Sale by Price and Features.
Newly Listed Homes for Sale in Spartanburg SC
---
Discover Spartanburg: Your Ideal Place to Call Home
Welcome to Spartanburg County, South Carolina – the fourth-largest county in the state with a population of over 301,000! With a mix of suburban and urban environments, Spartanburg offers the best of both worlds for its residents. The city is home to a growing downtown scene with new shops, restaurants, and public art on every corner, making it a hub for entertainment, dining, and culture. The culinary diversity in Spartanburg is second to none, with international business communities that bring unique local flavors from around the world. Downtown Spartanburg is especially known for its culinary scene, featuring many popular restaurants, cafes, and food trucks.
Spartanburg is also a great place for families, young professionals, retirees, and entrepreneurs. With amazing career opportunities from international companies and organizations, you can take advantage of the vibrant job market in Spartanburg. The city is constantly growing, evolving, and expanding with its community, and its residents take great pride in making Spartanburg the best it can be.
If you're thinking of opening a small business, Spartanburg is the perfect place for you. The city offers many resources and support systems for small businesses to succeed, including incubators, accelerators, and entrepreneurial training programs.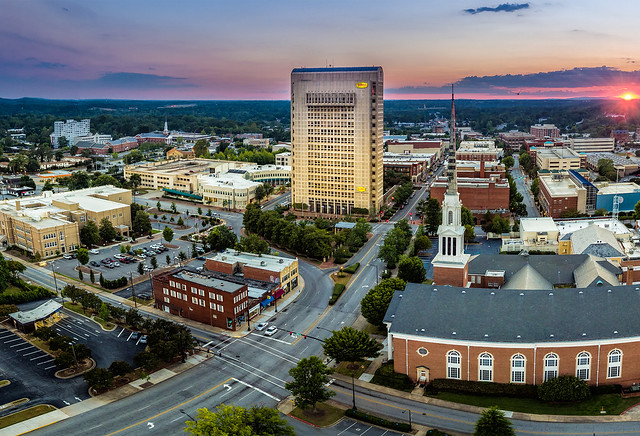 Live, Work, and Play in Style in Downtown Spartanburg, SC!
Downtown Spartanburg is a great place to work and live in the Upstate. Whether you're a foodie, a supporter of small business, or a creative, Downtown Spartanburg is the perfect place for you! In fact, Spartanburg has been named the state's second cultural district, with public art at every corner, galleries, and museums.
If you're looking for a place to live in Downtown Spartanburg, there are many housing options to choose from. You'll find a wide variety of real estate choices, from traditional neighborhoods to historic districts, to condos and townhomes. If you're looking for a home with a view, there are many houses for sale that overlook the city's downtown area.
Education in Spartanburg, SC
Spartanburg takes pride in its education system, providing quality education to students of all ages. The public school system is divided into seven districts and offers several vocational schools to cater to different interests and career goals. Additionally, Spartanburg is home to several renowned colleges and universities, including V-COM – Carolinas, Sherman College of Chiropractic, Spartanburg Methodist College, Converse College, and USC Upstate. These institutions offer students a variety of programs, from healthcare to business and liberal arts.
The Spartanburg County school district is committed to providing students with a comprehensive education that prepares them for success in college and beyond. The district also offers numerous extracurricular activities, including sports, music, and theater programs, to help students develop their talents and interests.
Higher education is also a priority in Spartanburg, with several colleges and universities that offer diverse programs and opportunities for students. Whether you're interested in pursuing a degree in healthcare, engineering, or the arts, there's a college or university in Spartanburg that can help you achieve your goals.
Spartanburg's education system is supported by a community that values learning and invests in the future. With excellent schools, top-notch colleges and universities, and a commitment to lifelong learning, Spartanburg is a great place to live, work, and study.
Spartanburg SC Transportation
Spartanburg's strategic location at the intersection of Interstates 85 and 26 makes it an ideal place to live for those who frequently travel for work or leisure. With easy access to major highways and interstates, getting around town and beyond is a breeze. The city is also within driving distance of three international airports, including the Greenville-Spartanburg International Airport, connecting you to the rest of the world. Whether you're traveling for business or pleasure, Spartanburg has got you covered, offering a wide range of amenities and attractions to suit your needs. So why not make Spartanburg your next home and experience the best of travel and leisure?
Moving to Spartanburg, SC
If you're ready for a change of pace and considering relocating, Spartanburg should definitely be on your radar! Not only is the cost of living affordable compared to many major cities in the US, but the mild climate is a bonus with average temperatures ranging from the 50s in the winter to the 80s in the summer. Outdoor enthusiasts will love the city's numerous parks, hiking trails, and recreational opportunities. From the Blue Ridge Mountains to various lakes, there's no shortage of natural beauty and adventure to be found. With a diverse range of neighborhoods to choose from, including historic districts and modern suburbs, you'll easily find the perfect place to call home. Relocating to Spartanburg SC offers an opportunity to join a thriving and diverse community with endless amenities and opportunities for growth.
And the best part? Our team of experienced realtors, Team Matsuda, has helped countless people relocate to Spartanburg and find their dream homes. With our knowledge of the area and commitment to personalized service, we can help make your transition to Spartanburg as smooth and stress-free as possible. So don't hesitate – contact us today and let us help you make Spartanburg your new home!
Selling a Home in Spartanburg, SC
Ready to sell your home in Spartanburg, SC and get top dollar? Look no further than Team Matsuda Realtors, your trusted family-owned and operated real estate team. We believe in treating our clients like family, and we'll work closely with you every step of the way to ensure a successful sale when selling a home in Spartanburg SC. Our team has extensive knowledge of the Spartanburg area, and we know what it takes to sell a home quickly and for the highest possible price. With our personalized marketing plan, professional negotiation skills, and commitment to your satisfaction, we'll ensure a stress-free selling process from start to finish. Plus, with our instant home value calculator below, you can get an accurate estimate of your home's worth and make informed decisions about pricing and marketing. At Team Matsuda Realtors, it's not just about buying or selling a home – it's a family thing. Contact us today to schedule a consultation and experience the difference!
---
As a dedicated mother-daughter team, Team Matsuda Realtors brings 20+ years of local experience and a personal touch to the Greenville and Spartanburg real estate market. We love our community treat our clients like family, providing support before, during, and after the sale.
Call or text us at (864) 205-7653 to set up a coffee chat, and follow us on Facebook and Instagram for updates and property highlights. We're excited to welcome you to our family!