Real Estate in Greenville, South Carolina
Nestled in the Upstate of South Carolina, Greenville is a very popular, and growing city. Living in Greenville grants residents the best of both worlds being a great suburban and urban mix. Real estate in Greenville features a wide variety of choices, from traditional neighborhoods, historic districts, to an urban downtown condo and townhome living.
Browse Homes by Price & Features
Buying Real Estate in Greenville, SC
With the current inventory being low, as well as interest rates it's the perfect time to buy or sell a home and why so many people make the easy decision to use a realtor! Whether you're moving into a bigger home, downsizing, relocating or just need a change of pace, Team Matsuda Realtors in Greenville will provide the professional service you need. Call or text us at 864-205-7653 and we can plan to meet up for coffee and talk about your real estate plans!
View property listings in specific neighborhoods and areas in Greenville, or, see all Greenville homes, condos & townhomes, and land.
Greenville SC Real Estate Stats
Average Selling Price: $263,195      |    Total Average Listings: 3334
Total Average Under Contract: 1400      |     Average Day on The Market: 67
Just Listed Homes For Sale in Greenville, SC
Greenville, SC Neighborhoods
| | | |
| --- | --- | --- |
| Augusta Road | Half Mile Lake | Spaulding Farm |
| Braemor | Hollingsworth Park | Stonebrook Farm |
| Downtown Greenville | Lexington Place | Tanner Estates |
| Botany Woods | Montebello | Tanner's Mill |
| Chanticleer | Northcliff | Thistledown |
| Chaunessy | North Main | Tinsley Place |
| Croftstone | Parkins Mill | Tuscan Woods |
| Cypress Run | Pelham Estates | Warrenton |
| Forrester Heights | Pelham Springs | Waterstone Cottages |
| Foxcraft | Plantation Green | |
| Gower Estates | Roper Mountain Estates | |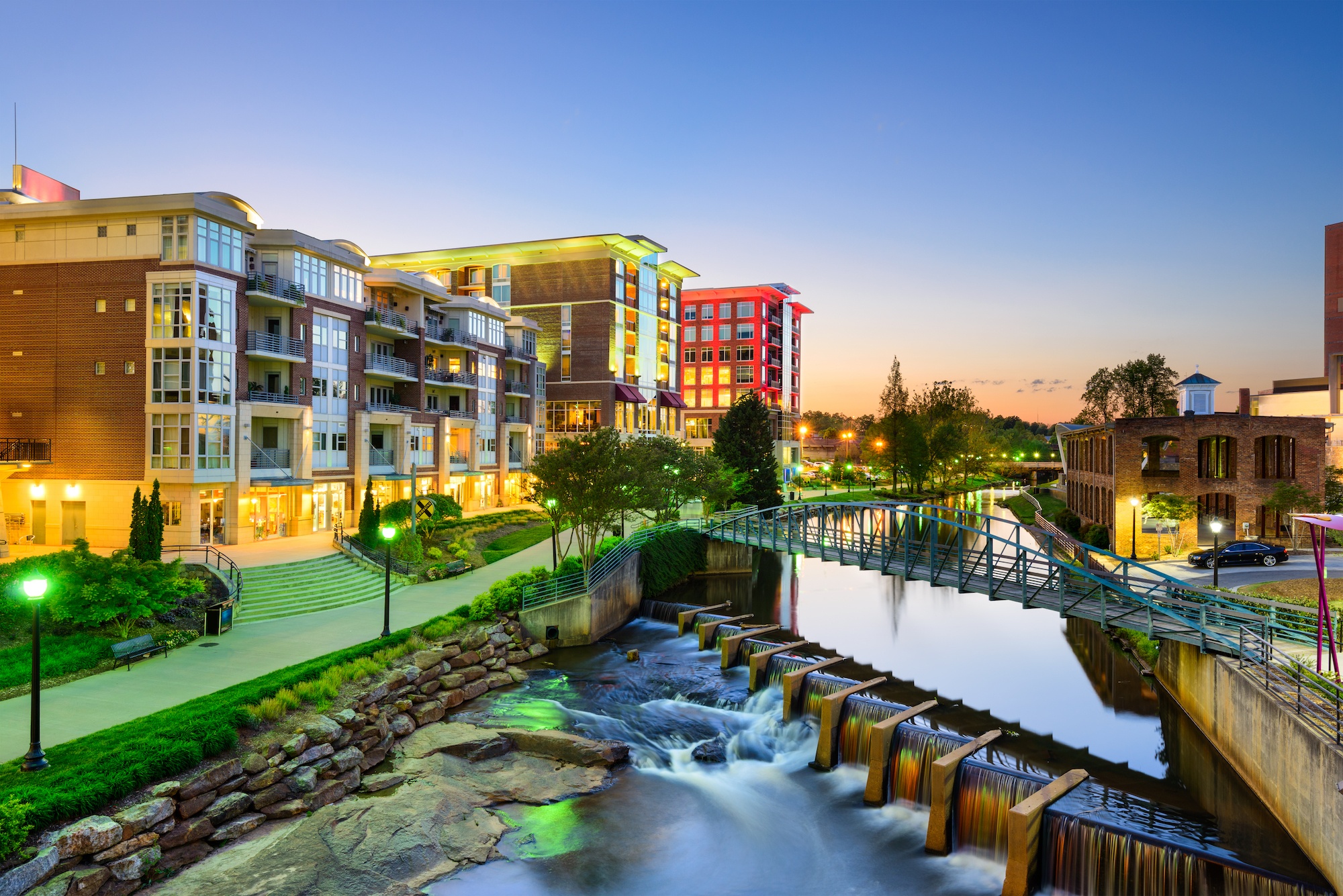 The City of Greenville is a captivating place to spend some time. Within the 10-block radius, you will find over 120 locally-owned businesses; including restaurants, shops and bars. As you walk along the tree lined main street, you may even come across a unique musician or artist. When you need a break, make your way over to the Reedy River to relax and enjoy the sound of the waterfall. This is also a perfect spot to spread a blanket and enjoy the collective atmosphere surrounding you.
With diverse culinary flavors, its contemporary hustle and bustle that the growing city of Greenville provides, you may not be surprised to find out the city made it to the TOP of the list of 25 Coolest Towns in America: 2018.

Downtown Greenville – Find out More
Downtown Greenville has been known as one of the Upstate's most popular cities for shopping, dining, and entertainment, and over the past few years has earned many awards. Quite often there are special events in Downtown Greenville to enjoy with your family, such as Fall for Greenville coming this weekend. Even if you love the quiet outdoors and scenery, Greenville has many things to offer you! Take your bike out and ride down the Swamp Rabbit trail in Traveler's Rest, or head over to Caesar's Head State Park for a four-mile trek to Ravens Cliff Falls.
Education
The Greenville County School District is the largest school district in the state of South Carolina. Ranked the 49th largest district in the United States, with 14 high schools, 18 middle schools, and 50 elementary schools in the district. In addition to traditional public schools, Greenville's downtown area is home to the South Carolina Governor's School for the Arts & Humanities. There are many Colleges in Greenville as well, such as: Furman University, Bob Jones University, North Greenville University.
Transportation
Located on interstate 85, Greenville is about halfway between Atlanta and Charlotte. There are many airports in the Greenville area with the largest being the Greenville-Spartanburg International Airport. The Greenville Downtown Airport, is a busy general aviation airport with nearly 80,000 take-offs and landings annually.
Team Matsuda Realtors, your top notch real estate agents in the Upsate of South Carolina. Are you ready to buy or sell a home in Greenville or Spartanburg, SC? Call or text us a (864) 205-7653, lets grab a coffee and talk about your real estate goals!
More Greenville Real Estate Search Options
Downtown Greenville
Historical District
New Construction
Luxury Homes
Golf Communities
Waterfront Homes
Search Homes in Greenville by Feature
Homes with Acreage
Homes with a Screened in Porch
Homes with Disability Access
Search Homes in Greenville by Style
Craftsman Style
Bungalow Homes
Colonial Homes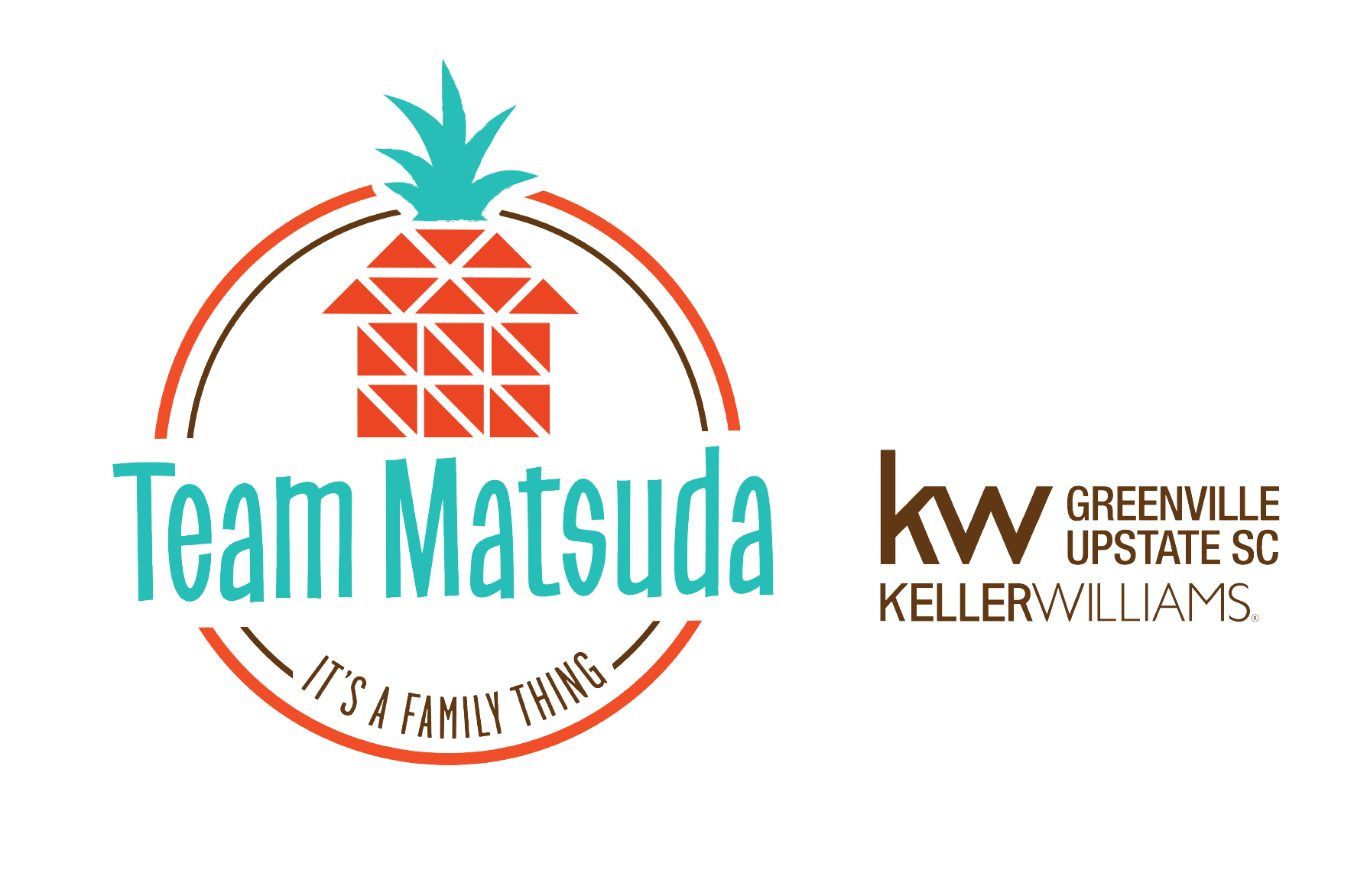 ADDRESS: 403 Woods Lake Rd., Greenville, SC 29607
PHONE: 864-205-SOLD (7653)