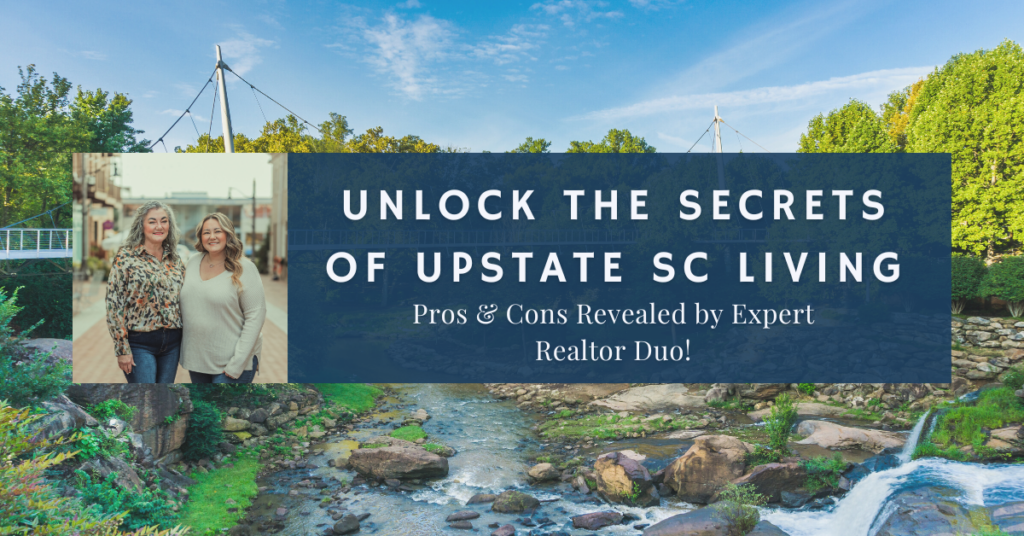 Dreaming of a picture-perfect life in the stunning Upstate of South Carolina? You're not alone! With whispers of vibrant cities like Greenville and Spartanburg stealing hearts, it's no wonder the region is gaining attention. As a passionate mother-daughter realtor duo serving the Upstate of SC and beyond, we can't wait to reveal the insider pros and cons of living here. Join us on this journey as we uncover the local real estate market's hidden gems and sprinkle in our unique personality and expertise.
Prime Location: Upstate South Carolina's Accessibility and Scenery
The Upstate of SC boasts an excellent location thanks to its convenient access to major interstates like I-85 and I-26. Beaches and mountains are just a short drive away, making it perfect for outdoor enthusiasts. Whether you're planning a day trip to the North Carolina mountains to soak in the breathtaking Blue Ridge Parkway views or a weekend getaway to South Carolina's beautiful sandy shores, the Upstate offers a diverse range of experiences.
Affordable Living in Greenville and Spartanburg
Greenville and Spartanburg counties consistently rank among the top 10 most affordable places to live in the United States. While housing prices have been rising, they remain relatively affordable compared to other areas. In addition, property taxes are low, and gas prices are among the lowest in the country. This cost of living advantage makes it an ideal destination for families and young professionals alike.
Thriving Job Market in Upstate South Carolina
Upstate South Carolina has become a hub for transplants from across the US and around the world, thanks to global companies like GE, Michelin, and BMW. The growth in both Greenville and Spartanburg is truly remarkable, with a thriving job market that attracts diverse talent.
Higher Education Opportunities in Greenville and Spartanburg
With 11 colleges between Greenville and Spartanburg, including community colleges, trade schools, prestigious universities, and medical training facilities, you're sure to find a school to support your educational goals. The Upstate is an excellent place for lifelong learning and career development.
A Foodie's Delight in Upstate SC's Restaurant Scene
Greenville is a food lover's dream, second only to Charleston. Upstate South Carolina offers a mix of chain and independently-owned restaurants in downtown Greer, Greenville, and Spartanburg. With a thriving food scene that includes a variety of cuisines, your taste buds are sure to be delighted!
Sporting Events Galore for Enthusiasts
Sports fans will love the Upstate of South Carolina. From the national championship-winning Clemson Tigers football team to the Carolina Panthers training camp at Wofford College, there's always an event to catch. Basketball enthusiasts can cheer on the South Carolina Gamecocks women's basketball team or the Charlotte Hornets, making it a perfect location for sports lovers.
Enjoyable Weather for Year-Round Activities
As a former New Englander, I prefer the Upstate's climate. You'll always find outdoor activities, whether it's biking on the Swamp Rabbit Trail or walking the Spartanburg Rail Trail. Expect warm summers and slightly chilly winters, providing a comfortable environment for year-round fun.
The Cons of Living in Upstate South Carolina
Despite the many benefits, there are a few drawbacks to consider when moving to the Upstate:
Southern cuisine can be high in calories, so you might gain some weight.
Roads can be bumpy and busy during commuting hours and on interstates.
Humidity can be intense, and spring pollen may require frequent car washes.
For vibrant nightlife, you may need to visit nearby cities like Atlanta, Columbia, or Charlotte.
The Upstate of South Carolina offers a variety of benefits for those considering a move to the area. From its convenient location to its affordable cost of living, thriving job market, and diverse educational opportunities, there's no shortage of reasons to fall in love with this region. With a thriving food scene, exciting sporting events, and enjoyable weather, the Upstate has something for everyone. So why wait? Connect with our mother-daughter realtor team today to begin your journey towards finding your dream home in the Upstate of South Carolina.
Looking for your dream home in Greenville or Spartanburg? Our dedicated mother-daughter realtor team has the expertise and local knowledge to help you find the perfect home for your needs. Browse our website for the latest real estate listings, and create an account to save your favorites and receive alerts for new properties. Whether you're a first-time homebuyer or a seasoned investor, we'll provide personalized service and guidance to make your home search both seamless and enjoyable. Contact us today to get started and find your dream home in Upstate SC!
Ask Us Anything!